Lennox has the buttery voice for which Jamaicans are known. His singing voice is even smoother. Born in Kingston, Jamaica, he arrived in Rockford, Ill. at the age of 16. But that is his story:
"Was food an adjustment?" I asked. We were at Garrett's in Rockford, where my amazing puff pastry of apricots and brie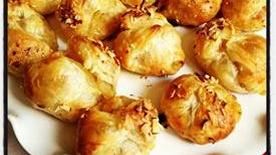 was served with diced tomatoes and watercress. Lennox enjoyed his small chicken Caesar salad.
"I remember my first weeks here," he said. "I was not able to eat. I just never had an appetite. I was afraid I was not going to keep it down. It was so bad the doctors put me on Ensure."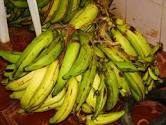 His diet in Jamaica was mostly rice and flour dumplings.
"Lots of fruits and vegetables?" I asked, imagining Caribbean bounty.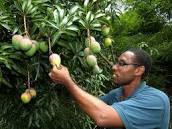 "You just pick it off the tree–mangoes, plantains, whatever you want, pick it fresh." he said.
Lennox and his family also ate fried plantains and dumplings for breakfast and salted codfish with ackee.
"They take dried, salted codfish," explained, "and boil out as much salt as they can, then cut it and fry it with ackee. It looks like scrambled eggs. There is nothing like that here. It is Jamaica's national fruit."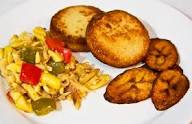 Lennox grew up with his mother, two siblings and a stepfather. They lived in a one-room house of boards, with an outhouse bathroom and a shack at the back for a kitchen.
"What is your earliest memory of music?" I asked, know music is his passion.
"My grandma always sang." His house was next to hers. "If I lay on my grandma's roof, I could stretch across to my mom's roof," he pictured.
"I'm five feet, five inches tall. I remember my grandma, a dynamic woman of God, would get up on Sunday mornings and warm her voice to lead the singing for church."

  Jamaican Christians believe God's gift of music is for praise, and they don't sing secular songs.
"My mom sang a little bit; so did my aunt," he said.   

"They would get together and sing beautiful three-part harmonies. I was blind, so I would listen. Listening was my way of seeing the world. I always wanted to copy what I heard. There is no hymn in the book that I don't know."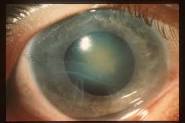 Lennox's mother contracted measles during a hospital stay when she was seven months pregnant with him. In 1978, Jamaican law required abortion if the pregnancy was endangered in a manner where the baby could be deformed or brain-damaged. But, the doctors didn't find out about her case. His grandmother instructed her daughter not to tell or complain. "'I'll go home and talk to God,'" he related what his grandmother said.
"My grandma prayed…with the neighbors."
Born December 24, 1978, it was soon clear that Lennox was blind and had glaucoma. When he was six, the doctors at Kingston's university hospital wanted to explore to see if there was anything they could learn. His mother was apprehensive.
"My grandma said, 'What worse could they do? He's already blind. You let them go. We'll talk to God about it. God's not through with him yet.' A few months later, I started to see. To this day, with all the modern technology and medicine, there is no cure for glaucoma. I know it was the prayers."
His sight returned gradually.
"It was interesting. I was behind with my eyes connecting images to my brain. I had to re-learn to look at something instead of feeling for it…going to a door, knowing I should turn the handle, I would still feel for the handle…trying to teach my mind how to see, recognize and respond."
Doctors recommended enrollment at the Salvation Army School for the Blind. They expected his blindness to return in a few years. At the boarding school, he was away from family and friends. But during chapel, he heard the piano each day.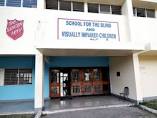 "The auditorium for chapel is very sacred," Lennox said.
"Ladies don't go in there without their heads covered. When there was no chapel, it was off limits for children. But, in the evening, I would go to the chapel, break in, find my way to the stage and punch out notes that I had heard. The piano was covered by a big tarp. I had really bad asthma, but I would go under the tarp, play a few notes, come out and breathe, get under, play a few notes, come out, until I started to put a song together, playing what I had heard."
The principal heard him, pulled him out, gave him a spanking, but told Lennox he was to play in the Sunday service the next week. Lennox was 13.
"He sort of encouraged you," I laughed.
"Reprimanded, then encouraged," he corrected.
"I learned Braille, how to use a cane, to be an independent blind individual. My mom and I were best friends. She felt bad that I was blind, so she overprotected me. Being at the school was difficult for her and for me. But she knew it was best. If I was blind at 12, there would be no future if I wasn't learning the skills I needed."
But at 12, 13, 14, 15, Lennox was seeing better than before, beating the odds.
"My grandmother would say I was a miracle and that to whom much is given, much is expected.
"There was a church in my yard. They were always inviting me to do this and that. I wanted to do my own thing."
  One summer, his mother insisted he go to Bible camp. Lennox refused. He explained, "I had a hard time…I loved Jamaican reggae music, forbidden music."
His mother washed and ironed, and packed his things the night before camp. She said, "I know God is in control. You're going to go," he recalled.
"It was probably 400 Jamaican dollars for the week. She only had 200." That morning a knock on the door brought her answer.
"A lady with an envelope said, 'Please give this to your mother.'" Sister Brown felt God leading her to give them $500.
"I was kicking and screaming, and got on the bus," he said.
"It was horrible. But when I got there, I realized for the first time in my life that to whom much given, much is expected. god has given me a lot. I heard about the greatness and goodness of God, how He is intimately acquainted with our ways, and has a plan for us…that we go through circumstances to experience the best life possible. We have to yield…follow whatever it costs us."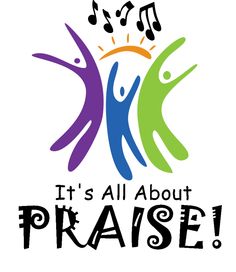 Music spoke to Lennox, one lyric in particular: I'm born again to win, the work has been completed, the Devil is defeated, no more will I be cheated, 'cause I'm born again to win.
"Because I am a miracle child," he said.
"You felt victory in that song," I echoed.
"Oh, yes!"
(This story originally appeared in my May, 2007, in my Lunch with Marjorie column in The Rock River Times.)